Seven Steps To Stand Out Reports
By Richard Evans, Indigo Business Services, Ltd. 
Do you hate writing reports, yet find you are writing more and more of them? We've been working with business professionals to improve their written communication skills for nearly 15 years. By listening to the challenges and objectives of our Writing Dynamics™ delegates we've developed the following 'Seven Steps To Stand Out Reports'.
Step 1: Reason
Make sure you understand why you are writing the report. What are its aims and objectives? What is its purpose? Is it to inform or advise? Is it reporting on the past or projecting into the future? Is it trying to educate or illicit a decision?
Step 2: Explore 
Do you really understand the reason for the report? Research all the information you require to be able to write: the facts; the figures; the quotes; and the expertise – this will help you to paint a picture of the content you need to portray.
You can also explore 'how', or the 'process' you are going use, to write your report effectively. Writing Dynamics™ developed by professional writers, will teach you the way to plan, draft and edit – find out more here.
Once you've gathered everything you need together, you are ready to start writing.
Step 3: People
Who is the target? Who is the report going to be read by?  Who  has an interest in the report? Think internally and externally to the organization. Don't forget to think of who you may need to go to for help and guidance – especially if you are not an expert in the subject matter.
Try to get into the mind of your reader (audience). Will they understand jargon or internal language? Do you need to add any supplemental information and proof that you may have found in your 'Explore' step? Think of the process you may need to follow to get them to read your report. Will they fully read it? Or skim? What sort of images, tables or diagrams should you include to reinforce your content?
Step 4: Outline 
Formal or informal? Are you adding appendices? How much is your reader likely to want to read? Maintaining a simple structure will ensure your reader understands what you are trying to say!
Step 5: Reader
It is really important to keep your reader in mind when writing. Try to think about any major objections or questions that could arise and try to provide responses to overcome these.
If you plan effectively, Writing Dynamics™ teaches techniques like a cluster, you can ensure that you stay on track, on target and on time! You'll also ensure that all of your ideas are down on paper before you start to write.
We used a cluster to develop this article – see below: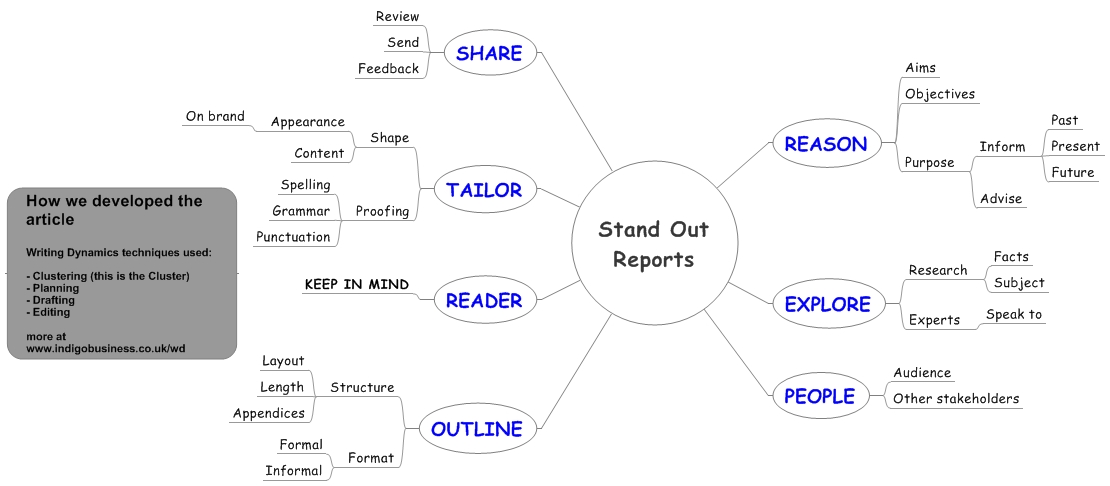 Step 6: Tailor 
Shape your report with the reader in mind and don't use words or jargon that they won't understand. It should flow from start to finish and point-to-point without causing confusion.
Is there a certain house or brand style that you should be adopting? This can also refer to tone of voice as well as look and feel.
Don't forget spelling, punctuation and grammar is important. It is best to get someone else to proof your report, you'll need to set them clear objectives when they do.
Step 7: Share 
Firstly review your final draft: is your report meeting its aims and objectives; is it written so that the target reader will be able to understand and digest it; is it on brand; and are all fonts the same and images readable? When you are happy with the final version – send!
It's always a good idea to gain feedback from the person who set the original task, you may even get some feedback from your reader(s) – take this on-board and use it to improve your process for next time.